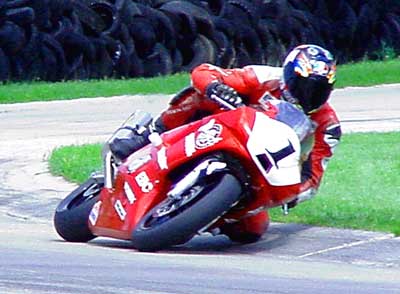 Bike set-up makes a big difference at Blackhawk !
Turn 4. This is a tricky turn...it's slightly banked, and there's a nasty dip at the entrance that's put a few guys on their head. Schoeberle flips the R6 over faster and further then anyone through here !

Mototuneusa.com: How Did You Like The Bike ??
Derek: " The power is amazing, I can spin the tire with the throttle. It just pulls super hard ! I never could do that with my ' 97 GSXR 750. ...

...Coming out of the last corner leading out onto the straight a way every lap it was doing a slide, hook, slide. If we can tune that out of the suspension and get a calm day,
I'll go for the overall lap record !! "
.
Mototuneusa.com: How Was It Out There...Was The Wind A Problem ??
Derek: " Yeah, I could have gone a lot faster if it wasn't for the wind.... it was blowing the bike all over the racetrack. It affected braking distances, but mostly the side winds going through the corners were a problem.


TRACK/TUNING NOTES:
Blackhawk Farms is a medium speed, very physical track. There's definitely a certain flow to it, but it's real hard acceleration followed by ultra hard braking.

SUSPENSION SET-UP
Car racing has really beat up the track, so it's rough in most corners... suspension is super critical. There's no way to completely level the bumps at Blackhawk. The trick is to strike the best compromise of soaking up the bumps without sacrificing braking performance, ground clearance and turning speed.

POWER SET-UP
It takes a lot of extra power to pass an equal rider on Blackhawk's 2 short straights. The track gets raced on a lot, so most of the locals are fast as hell here. A straightaway pass requires a better than average drive off the turn and that means perfect throttle control is a must !! Even minor carburetion hiccups will affect lap times noticeably, and cause the rider to use extra energy riding around the problem.
2210 Whipple St.
Beloit, WI 53511
(608) 362-9344
.
Impressive !!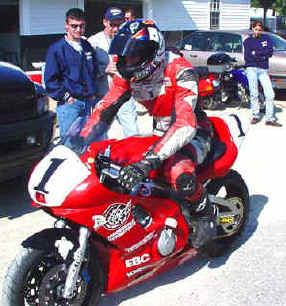 Another Super Fast



Brought to you by:


Extreme Motorcycle Performance
SUPERSPORT / SUPERBIKE ENGINE BUILDING
DYNO TUNING