The First Roadracing Season of the 21st Century is Off to a Great Start !!

OMRRA racetrack promoters hosted a swap meet the same weekend as the races. It was a great idea...the event drew bike enthusiasts from both Oregon and Washington in by the thousands! Suddenly the grandstands started filling up with bikers and sportbikers that sat there with their newly purchased used bike stuff... most of these people were seeing roadracing for the very first time !!!

Portland is a lot different than Daytona. The pavement, climate, and track design all change the tuning requirements. It's a roadcourse that has a horsepower zapping long front straight. The kind of track that tests the new equipment in a different way.

These new roadracing fans weren't disappointed as the top OMMRA racers rode the wheels off their Yamaha R6's...



Wild Roadracing Action in The Pacific Northwest !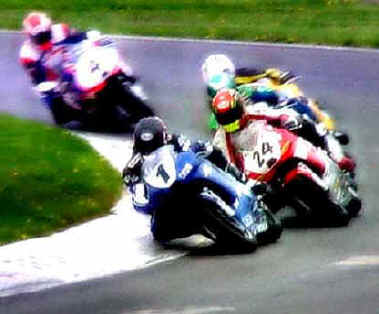 MotorcycleUSA's Dave Cook Leads !!

#1 Dave "The Cookerific" Cook, #24 Rob Carpenter, #74 Mike "Sully" Sullivan, #2 Alan "Schmidtastic" Schmidt and #4 John Dugan flick their Yamaha R6's thru turn 9 at Portland...